Big Data Analytics
The 4 best smartwatches for fitness
On February 17,2022 by Tom Routley
Wearable technology has made great strides in the last few years – just like its owners. Be it running, walking, or swimming, smartwatches make great fitness companions, and could even replace your personal trainer (though won't be as attractive, of course).
So if you're after visual goals to keep you motivated, or just want to record your progress towards a stronger, fitter you, a smartwatch makes it easy. There are plenty to choose from, so to help you pick the best of the bunch, we've put together a list of our favorites.
So read on and prepare to blitz those new year fitness goals.
Top 4 Smartwatches for fitness
1) Apple Watch Series 3
Since its launch in 2015, the Apple Watch has excited fans with its sleek design and intuitive interface. Apple Watch's latest iteration, the Series 3, now includes an altimeter as well as GPS to track your hikes and trail runs.
Being waterproof to 50M, you can dive, surf, or swim without worrying about breaking your watch, and the heart-rate monitor tells you when to crank things up a notch. There's also optional LTE connectivity, so you can answer calls and texts without taking your phone with you.
The intelligent tracker monitors all your activity – from biking to squats – and encourages you to complete your daily goals. And while the Series 3 isn't cheap, starting at $399 for the LTE version, if you've got the spare cash it's worth splashing out.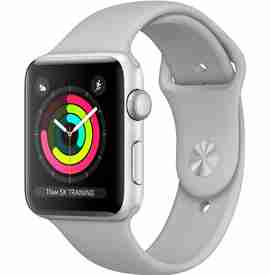 From: Apple
2) Fitbit Ionic
In 2008, Fitbit began measuring fitness activity with clip-on trackers. They then developed wristbands, and now, smartwatches. The Fitbit Ionic is their latest creation – a GPS-enabled smartwatch with a fully-integrated fitness coach.
The Ionic's SmartTrack detects the type of activity you're doing and adjusts settings automatically, meaning you can spend more time training and less time fiddling. It's waterproof to 50M (like the Apple Watch) and includes a heart-rate monitor and onboard storage for your favorite songs.
There's no LTE support, which could be a good thing if you want to stay focused, and also makes the Ionic cheaper than the Apple Watch at just $269.95.
From: Amazon
$269.99 $300
3) Garmin Forerunner 645 Music
Garmin is well-known for its GPS navigational gear, and now they're shaking up the wearable tech market. Designed with runners in mind, the Forerunner series measures a range of useful data, including balance, cadence, stride length, ground contact time, and more – helping improve your technique and time.
As well as a heart rate monitor, third-party apps for taxis, weather, and other info, the Forerunner 645 Music stores up to 500 songs – enough for a marathon. At $449.95 the Forerunner is the most expensive smartwatch on this list, but as a comprehensive wearable assistant for the professional athlete, it's tough to beat.
From: Amazon
4) Samsung Gear Sport
Samsung has delivered a range of quality smartwatches, and the Gear Sport is designed for the active, health-conscious user. It's equipped with a heart-rate monitor, GPS, Samsung Pay (for grabbing those energy drinks before the race), and personal coaching while you work out.
The circular design gives the Gear Sport a more traditional look, and the Super AMOLED display means vibrant colors and deep blacks. The 4GB storage lets you soundtrack your run with offline Spotify playlists – handy if you don't have your phone with you. At $249.99 it's the cheapest smartwatch, so a great buy if you're on a budget.
Any of these smartwatches would make a great virtual fitness coach. As they share a lot of features, choosing between them will come down to style, budget, and whether you want to take your phone with you while you train.
From: Amazon