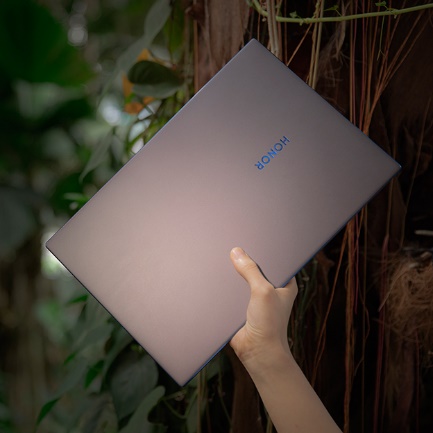 Open Source Technology
High Efficiency and High Energy Light and Thin Laptop
On January 06,2022 by Tom Routley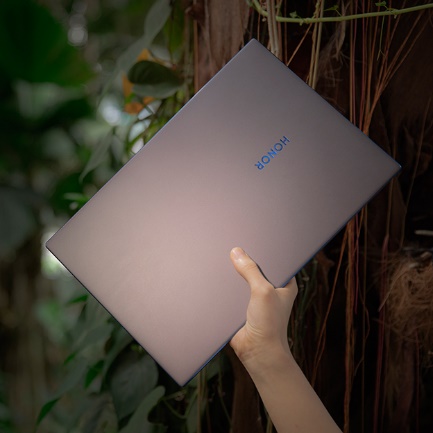 The overall shape of the HONOR MagicBook 15 is still the style of the HONOR laptops. The whole machine adopts an all-metal integrated fuselage design. The A side of the laptop has only an eye-catching "HONOR" logo in the middle area on the left. It looks simple and capable.
The A side has one thing special. That is, the cut of its edges uses CNC processing. It uses the same color and plating process as that of the LOGO. These make HONOR MagicBook 15 looks more layered. The details bring different visual feelings to users.
The B side of the HONOR MagicBook 15 comes with a 15.6-inch micro-edge full screen. Its resolution is of 1920 × 1080. The upper, left and right borders are in great control. All of them are 5.3 mm. This brings a screen-to-body ratio of 87%.
It has frosting treatment on the keyboard surface. Due to this, it can do more than playing an anti-skid role. Fingerprints will not leave on it. The key stroke of the keyboard is proper. Its feedback is clear. The hand feeling of typing is quite excellent.
The HONOR MagicBook 15 has AMD's next-generation Ryzen R5 4500U processor. It is built via the latest 7 nm processing technology. This is a 6-core and 6-thread processor of Zen2 architecture. Its CPU reference frequency is 2.3 GHz, up to 4GHz. It keeps balance in performance and power consumption. The HONOR MagicBook 15 comes with AMD Radeon Graphics. It has obvious performance improvement over the previous generation of products in graphics processing.
The HONOR MagicBook 15 has an unusual feature in light laptops. That is, it adds "high-energy mode". In most cases, it is only available in game laptops. Via the Fn + P key on the keyboard, you can realize the quick switching between performance mode and balance mode. After the performance mode is turned on, the system will maximize the competence of CPU and GPU. It enables users to get a smoother experience when running large programs or playing games.
The HONOR MagicBook 15 owes an inner 42 Wh battery. Its USB-C power adapter is 65 W. The measured charge can be from 0 to 30% in 15 minutes under the rest screen state. The power can increase 52% in 30 minutes, and 86% in an hour. It takes about 90 minutes to complete the full charge. The charging efficiency is high.
Besides its excellent performance, the HONOR MagicBook 15 has made a lot of efforts in terms of ease of use. The addition of multi-screen collaboration improves the efficiency of users' work and learning. It is a real productive tool.
With AMD Ryzen 4500U, HONOR MagicBook 15 can realize the easy coping with various scenes of users' daily work. Want to play a few medium-sized online games in your spare time? No problem! Its overall performance is good in laptops with the same price.